This is an archived article and the information in the article may be outdated. Please look at the time stamp on the story to see when it was last updated.
GREENSBORO, N.C. — A man found dead in the 1300 block of Seminole Street after a burglary was reported early this morning has been identified and a suspect is in custody.
Evidence collected at the scene, along with a series of interviews, revealed an unusual series of events that resulted in the death of Jamison Logan Horvath, 22, of Greensboro, according to a news release from Greensboro police.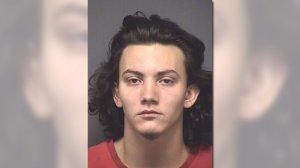 Police were dispatched to 1348 Seminole Drive at 5:13 a.m. after an anonymous caller contacted 911 about a man, later identified as 20-year-old Jacob Montgomery Stowe, who had entered the home and then fled when confronted by its occupants.
Responding officers saw a man matching the description provided by the homeowners, and after a brief foot pursuit, took Stowe into custody.
Jamie Rettie, the homeowner, said her son Jordan Clay helped save the entire family.
Clay said he heard Stowe trying to kick in the back door. That's when Clay grabbed his gun and met Stowe in the kitchen.
Clay held the suspect at gun point and told him to leave.
"When he's coming in all I could think of is my life, my wife's life plus my parents are in danger," Clay said.
He said Stowe looked dazed and possibly under the influence.
"He said, 'Where's James?' is the only thing he said and I told him, 'Wrong house,'" Clay said. "I have no idea who that was."
Other officers on scene discovered Horvath in the yard of an adjacent home after Clay's 12-year-old sister Heather Rettie pointed him out. Police and medical personnel performed first aid, but he succumbed to his injuries and was pronounced deceased at the scene.
Rettie said she and other neighbors have seen Stowe before in the neighborhood.
The deceased's manner of death was initially unclear; however, police determined that incident began when Stowe and Horvath were arguing while in Stowe's truck. Horvath exited the vehicle and Stowe backed in to him, causing critical injuries. Horvath staggered to a nearby property where he collapsed. Why Stowe then went inside 1348 Seminole Street is unclear, the release said.
Stowe, of Greensboro, is charged with first-degree murder, first-degree breaking and entering, felony death by motor vehicle, driving while impaired and driving after consuming while under 21.