This is an archived article and the information in the article may be outdated. Please look at the time stamp on the story to see when it was last updated.
ASHEBORO, N.C. -- The N.C. Zoo is celebrating 40 years of operation during 2014 -- and the zoo's oldest elephant will also be celebrating.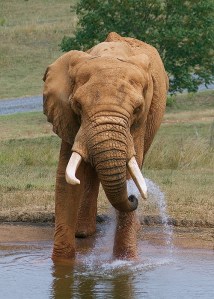 C'sar, the zoo's oldest African elephant and the longest resident animal in the park, will be honored with a 40th birthday party, on Saturday, Aug. 16.
The festivities will include a special ice cake made of frozen treats presented to C'sar at 11 a.m. and cupcakes for visitors.
The events will also include keeper talks, face painting, educational programs on elephants and a giant birthday card for the guest of honor.
The N.C. Zoological Society, the zoo's non-profit support organization, will be selling special wristbands with proceeds going to support the zoo's elephant conservation efforts in Cameroon, Africa.
The festivities run from 10 a.m. to 2 p.m. at the zoo's Elephant Exhibit.