This is an archived article and the information in the article may be outdated. Please look at the time stamp on the story to see when it was last updated.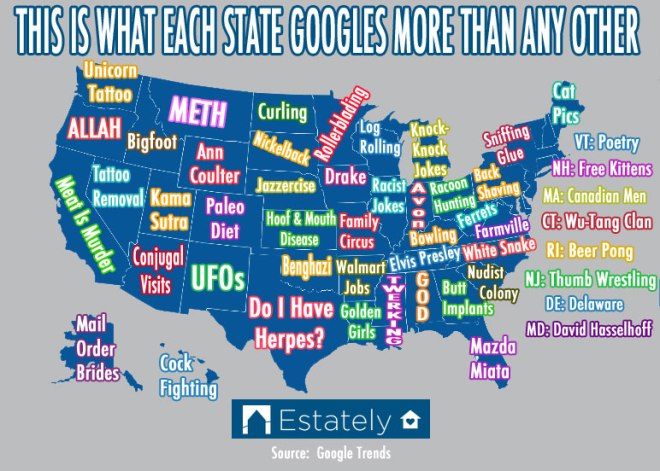 North Carolinians love their barbecue, White Snake, 'Your Mama' jokes and Charles Barkley's golf swing.
According to data compiled by Estately and Google data trends over the past decade, more North Carolinians search for those four search terms than any other state.
"We focused our search queries divisive topics like politics and religion, as well interest in types of recreation, music, movies, diet and health topics, famous people, TV shows, dumb questions, and a bunch of silly stuff like thumb wresting and glam rock," said Ryan Nickum, blogger for Estately, said in a statement to the Salt Lake Tribune. "It's obviously not hard science, but it does provide an interesting window into each state's personality."
Some other interesting states and search terms?
FLORIDA: Alligator Wrestling / Botox / Eyebrow Piercing / Hulk Hogan / Juviderm / Lice / Mazda Miata / MDMA / Obamacare / Stand Your Ground / Swingers / Viagra / What is sarcasm?
SOUTH CAROLINA: The Benghazi Attack / Golf / Hootie & the Blowfish (band) / Nudist Colony
VIRGINIA: Barney & Friends (TV show)/ Blackeyed Peas (music group) / Che Guevara / Evolution / Farmville / Shakira (singer)
GEORGIA: Athlete's Foot / Butt Implants / Cooking Crack / Divorce / Spanx / Weave / What is tofu?