This is an archived article and the information in the article may be outdated. Please look at the time stamp on the story to see when it was last updated.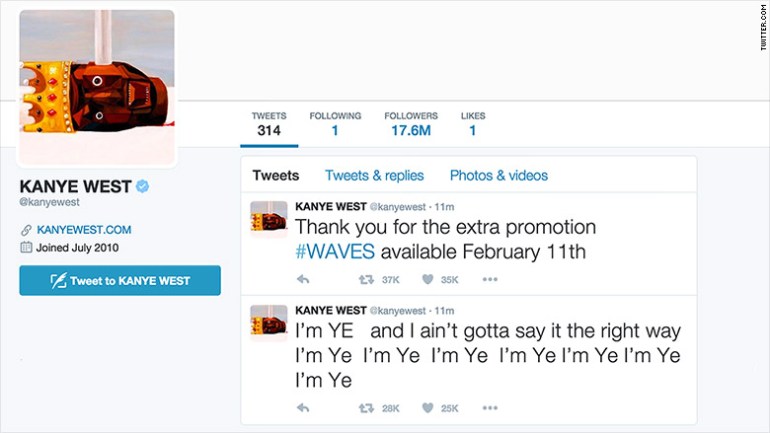 There are Twitter rants and then there is what Kanye West unleashed on Wednesday.
West, one of music's most popular and outspoken artists, hurled more than 30 consecutive tweets at fellow rapper Wiz Khalifa on Wednesday.
The tirade went on for about an hour and created a social media spectacle.
The barrage of tweets was sparked on Tuesday night after Khalifa criticized West for naming his upcoming album "Waves," a name that Khalifa felt belonged to rapper Max B.
"Max B is the wavy one. He created the wave," Khalifa tweeted. "There is no wave without him."
West didn't like Khalifa's remarks and rattled off tweet after tweet on Wednesday afternoon that mocked the Khalifa's clothes, music and personal relationships.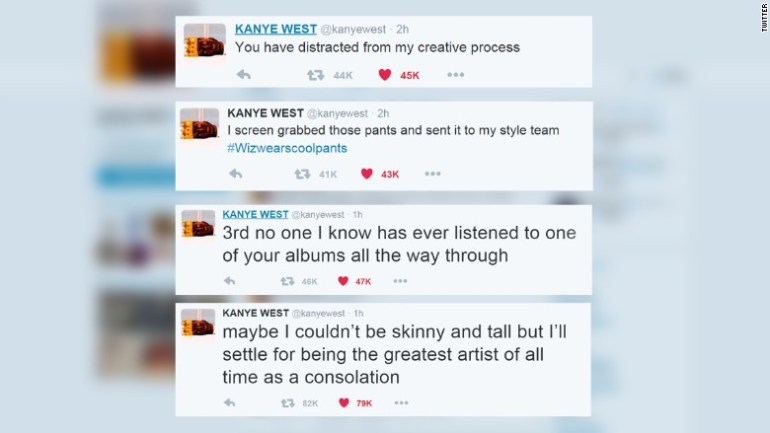 Followers couldn't look away from West's tweet storm, turning the moment into a top trending topic on Twitter.
The highlight is Kanye briefly pausing his taking credit for Wiz's child to compliment his pants. He sent a photo of them to his style team.

— Willie Geist (@WillieGeist) January 27, 2016
https://twitter.com/carlquintanilla/status/692429980878372865
https://twitter.com/stevekovach/status/692427315603718144
Over/under on first candidate to awkwardly try to insert themselves in the Kanye/Wiz beef?

— Steph Haberman (@StephLauren) January 27, 2016
https://twitter.com/WesleyLowery/status/692427722849583104
After more than 30 fiery tweets, West seemed to cool off by professing his love for the world and saying he would delete the thread.
https://twitter.com/kanyewest/status/692446402811686913
https://twitter.com/kanyewest/status/692435254431199233
https://twitter.com/kanyewest/status/692435687048679426
Even though the tweets are now gone, while it was happening some users found West's war of words more entertaining than another back and forth that had populated social media in recent days.
https://twitter.com/MikeIsaac/status/692428379694436352
West made waves on social media last year when the artist said at the MTV Video Music Awards in August that he would run for president in 2020, a moment that triggered more than 247,000 tweets.