This is an archived article and the information in the article may be outdated. Please look at the time stamp on the story to see when it was last updated.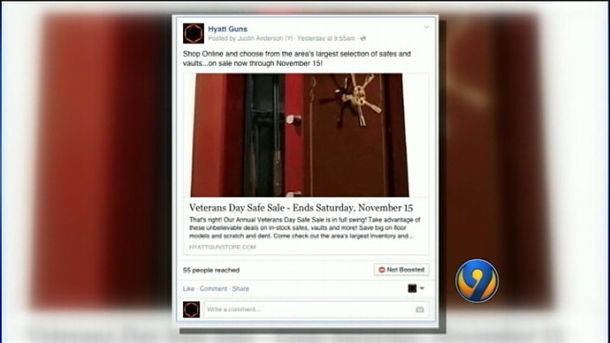 CHARLOTTE, N.C. – A North Carolina gun shop recently posted an ad on Facebook – but it was taken down almost immediately, according to WSOC-TV.
The Hyatt Gun Shop in Charlotte recently posted the ad online for a Veterans Day sale on safes and vaults.
Owner Larry Hyatt told WSOC-TV the ad was posted because the store didn't feel like it violated Facebook's policy on banning ads for weapons.
Facebook said ads cannot indirectly link back to pages where guns can be purchased.
The social media giant said the ad violated the policy and wrote, "The decision is final. Please consider this the end of our correspondence about your ad."
A WSOC-TV reporter has tried to get in contact with Facebook to clarify, but has not heard back.
The ad reads, "Shop Online and choose from the area's largest selection of safes and vaults… on sale now through November 15!" An image of the ad is provided above.
"Amongst all other things we do, (social media is) absolutely necessary to small business. Without it we couldn't do the business we do," Hyatt said.