This is an archived article and the information in the article may be outdated. Please look at the time stamp on the story to see when it was last updated.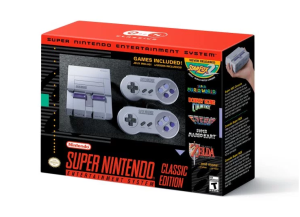 Nintendo is once again packing nostalgia into a tiny package.
Following the success of the miniature-sized NES Classic Edition last year — which became one of the hottest gifts of the 2016 holiday shopping season — Nintendo announced on Monday another play on an old console: the Super NES Classic Edition.
The small version of the Super Nintendo gaming system will include 21 built-in games, including "Super Mario World," "Yoshi's Island" and new titles such as "Star Fox 2."
The SNES Classic will launch on September 29 and cost $79.99.
Super Mario World, Earthbound, Star Fox 2 + 18 more games? Now you're playing with super power! #SNESClassic launches 9/29. pic.twitter.com/BPPGjpskPT

— Nintendo of America (@NintendoAmerica) June 26, 2017
It has the look and feel of the 90s home console but is packaged into a smaller, more portable body. The system includes two wired controllers that fit in the palm of your hand. The NES Classic only came with one.
Nintendo isn't the only company playing up nostalgia. Earlier this month, gaming company AtGames announced mini versions of its retro consoles, the Atari Flashback 8 Gold and the Sega Genesis Flashback. Both will go on sale this fall.
While the Atari Flashback console will include 105 built-in games, such as "Pac-Man" and "River Raid," the Sega Genesis mini console feature 85 but has a cartridge port for physical games. Pricing hasn't been announced yet for either product.
Nintendo's move follows the launch of its latest gaming system, Nintendo Switch, in March. It works as both a TV-linked console and a handheld portable device.
The console comes preloaded with these games:
Contra III: The Alien Wars™
Donkey Kong Country™
EarthBound™
Final Fantasy III
F-ZERO™
Kirby™ Super Star
Kirby's Dream Course™
The Legend of Zelda™: A Link to the Past™
Mega Man® X
Secret of Mana
Star Fox™
Star Fox™ 2
Street Fighter® II Turbo: Hyper Fighting
Super Castlevania IV™
Super Ghouls 'n Ghosts®
Super Mario Kart™
Super Mario RPG: Legend of the Seven Stars™
Super Mario World™
Super Metroid™
Super Punch-Out!! ™
Yoshi's Island™