This is an archived article and the information in the article may be outdated. Please look at the time stamp on the story to see when it was last updated.
WINSTON-SALEM, N.C. -- The Winston-Salem Journal calls Cary Clifford's small business, "a sort of heartbeat for a vital stretch of a reborn and rebuilt downtown."
It doesn't take long to tell the Camino Bakery, Coffeehouse and Winebar has become one of, if not the, most popular of downtown gathering places.
Clifford named it after the Camino de Santiago, the route of a popular Christian pilgrimage in Northern Spain during the medieval times that has been walked continually for 11-hundred years. Clifford walked that entire 500-mile journey in 1997.
"So  when we [she and her husband] started our business I wanted to name it Camino because I kind of felt like that was what we should be about here is that we have a purpose of creating great food and great atmosphere and that we really want people to enjoy life," she says.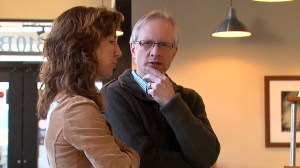 Clifford returned to her hometown of Winston-Salem in 2007 and started baking things for a friend who ran Krankie's Coffee down the street -- in part -- to supplement her husband's income. Her baked goods became so popular she decided to open Camino in 2011.
Today, Camino serves coffee, baked goods, and wine in the evening to a multi-faceted clientele—including families with children.
Clifford has some strong feelings about downtown Winston-Salem, its positives and its challenges.
"I've never had someone under 40 say they have trouble parking," she said. "I think for them the idea of parallel parking a block away is something they wouldn't even think twice about because if you think about it, it's no further than you'd have to walk to get into the mall."
"Downtown does need more retail, for sure. And I think that Mast General Store coming in, it will be a huge turning point."
The Mast General Store will open a block away on 5th Street in 2015. Clifford also believes more parking for the disabled, more downtown greenery and a downtown park would further invigorate the neighborhood.
Clifford and some fellow downtown business owners are currently planning a series of "Second Sunday's on Fourth" event from May to October of this year. For more information, check out the event's Facebook Page: https://www.facebook.com/SecondSundaysOnFourth.