This is an archived article and the information in the article may be outdated. Please look at the time stamp on the story to see when it was last updated.
Update: Authorities are focused on two areas of interest along Highway 17 near the Southwest Creek Bridge and Highway 53 and the Shaw Highway area in Pender County. If you have surveillance video taken Sunday, Nov. 26, through Monday, Nov. 27, from your home, business, or game hunting cameras, please call the Onslow County Sheriff's Office at (910) 555-3113.
ONSLOW COUNTY, N.C. — Arrest warrants obtained by FOX8 Saturday morning reveal new information into the arrest of Earl Kimrey in connection to the disappearance of 3-year-old Mariah Woods.
Kimrey, 32, was taken into custody Friday. Authorities say due to evidence gathered during the course of the investigation, they believe that Mariah is dead, but they have not found her body.
The searches will now shift to a recovery process.
The arrest warrants for Kimrey, known to be Mariah's mother's live-in boyfriend, show that he is accused of stealing two dressers from a home on High Hill Road around the time of Mariah's disappearance, between 11 p.m. Sunday and 3 a.m. Monday. The warrant states that he obstructed justice by "removing Mariah Woods body from the scene of her death and did conceal Mariah Woods death and body, knowing that Mariah Woods died from unnatural causes. The defendant acted with deceit and intent to fraud." The warrant also says that Kimrey "secretly disposed of the dead child's body."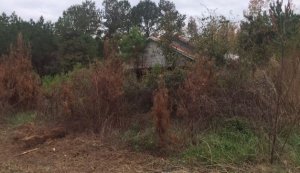 Kimrey is being charged with concealing of death, obstruction of justice, second-degree burglary, felony larceny, and possession of stolen property.
He is being held a the Onslow County Detention Center under a $1,010,000 bond.
According to WCTI, District Attorney Ernie Lee has been consulted on the current charges and additional charges could be pending as the investigation continues.
An Amber Alert had been active since Sunday, when Mariah was last seen around 11 p.m.
The search for Mariah's body has expanded to Highway 53 and Shaw Highway in Pender County. The Pender County Sheriff's Office and the Fayetteville Police Department are assisting in the search.
According to Kimrey's Facebook page, he is from Mebane, attended Orange County High School in Hillsborough, and studied HVAC at Alamance Community College in Graham.
Kimrey has a criminal history that began in 2005 with a larceny conviction in Alamance County, according to the N.C. Department of Safety website. He was put on probation and received a suspended jail sentence. He was convicted in Onslow County in 2012 of assault or threatening of a government official and being drunk and disorderly. He was given probation and a suspended sentence. In 2015, he was convicted of larceny, this time in Brunswick County. He was given probation and a suspended sentence.
Anyone with information should contact Onslow County Sheriff's Office at (910) 455-3113 or Crime Stoppers at (910) 938-3273.