This is an archived article and the information in the article may be outdated. Please look at the time stamp on the story to see when it was last updated.
CHARLOTTESVILLE, Va. — New details emerged Sunday about a fatal car attack that happened Saturday in Charlottesville, Va.
The three-vehicle crash occurred on 4th Street near East Water Street, according to a news release.
A Dodge Challenger was traveling south on 4th Street at a high rate of speed when it rear-ended a sedan headed south on 4th Street.
The impact of that crash pushed the sedan into a minivan in front of it. The minivan had slowed for a crowd of people crossing through the intersection.
The impact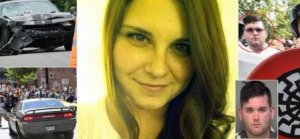 of the crash pushed the vehicles into the crowd of pedestrians. The Dodge Challenger fled the scene, but was located and stopped a short time later by Charlottesville Police.
One of the pedestrians in the crowd struck on the street, Heather D. Heyer, 32, of Charlottesville was taken to the hospital where she was declared deceased.
There were 19 other pedestrians who suffered injuries ranging from serious to minor, and were taken to a hospital, or treated at the scene.
The driver of the Dodge, James A. Fields Jr., 20, of Maumee, Ohio, was taken into custody and charged with one count of second-degree murder, three counts of malicious wounding and one count of hit-and-run.