This is an archived article and the information in the article may be outdated. Please look at the time stamp on the story to see when it was last updated.
MOORESVILLE, N.C. – A North Carolina woman is recovering after being bitten by a shark while she was vacationing with her family.
WBTV reported that Mooresville resident Kimberly Popp was bitten Tuesday afternoon in knee-deep water at Coligny Beach near Hilton Head Island in South Carolina.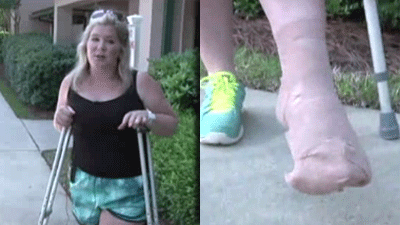 Popp said the shark was about five feet long and about as wide as her shoulders. She said she punched the shark in the nose until it let go.
The bite left a large gash on Popp's leg, near her ankle and the sole of her foot. She was reportedly rushed to the hospital and treated with 14 stitches.
She is expected to be on crutches for several weeks.
After being bitten, she ran out of the water screaming, to let other swimmers know.
"I looked the shark right in the eye, his nose was up, his teeth were into my flesh, I immediately looked at my kids and screamed to everybody to get out of the water, there's a shark on me," she said, according to WMBF.