This is an archived article and the information in the article may be outdated. Please look at the time stamp on the story to see when it was last updated.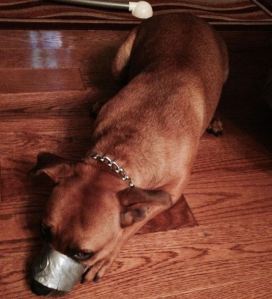 SALISBURY, N.C. — A 25-year-old Salisbury woman has been charged with cruelty to animals after authorities say she taped her dog's mouth shut to prevent the dog from barking, according to the Rowan County Sheriff's Office.
She then took photographs of the dog and posted them to Facebook, with the caption "Ha ha."
Kimberly Ann Howell is out of jail on $3,000 bond.
Someone saw the pictures and reported them to the Rowan Sheriff's Office.
Howell told authorities that she removed the tape immediately after posting the pictures.
Howell has since posted to her Facebook  page:
"Wow ok maybe I should of said I was joking when posting that. But honestly though people would know better anyone who spend (sic) a week at my house would see how spoiled and loved my dog is. Anyways guess I really didn't think through but anyone who knows me knows when I got Leah she [was] skin and bones how (sic) that animal abusee (sic)."
"I have made my mistakes in life too and believe me either I've paid for them or am still paying for them. But to call me an animal abuser or child abuser that's so not true."