This is an archived article and the information in the article may be outdated. Please look at the time stamp on the story to see when it was last updated.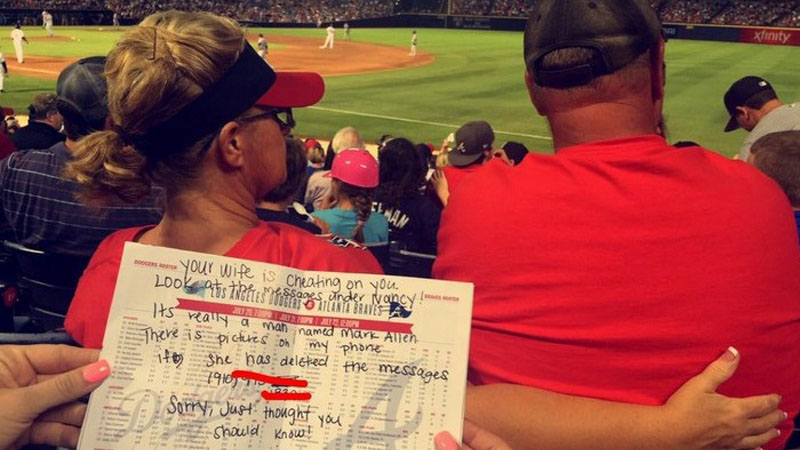 ATLANTA — Two North Carolina sisters say they exposed a cheating wife to her husband at an Atlanta Braves baseball game Wednesday night.
Delana and Brynn Hinson sat behind a couple at the game and noticed the woman was sending explicit text messages to a man named Mark Allen, who was saved in her phone under the name "Nancy."
When there's a married couple in front of you but….hoes ain't loyal so me & @lanabaybee8 expose em! #Nancy? #ormark pic.twitter.com/U4A2RmaDh4

— Brynn ✨ (@LUV2BCH_) July 23, 2015
@LUV2BCH_ for the people saying this is old and we didn't do it .. That's me bihhhhh what pic.twitter.com/pViqMUSv0S

— Delana Cagle (@lanabaybee8) July 23, 2015
The sisters began taking photos of the woman's text messages and live tweeting her conversation with "Nancy."
During the game, Delana wrote the husband a note that read: "Your wife is cheating on you. Look at the messages under Nancy! It's really a man named Mark Allen. There are pictures on my phone."
At the end of the note, she left her phone number so she could send the husband photos if he wanted proof.
They slipped the note to the man as he was leaving the game and 30 minutes later he sent a text message asking for the evidence.
Although the two sisters have been applauded for letting the man know, some people have tweeted them saying they should mind their own business.