This is an archived article and the information in the article may be outdated. Please look at the time stamp on the story to see when it was last updated.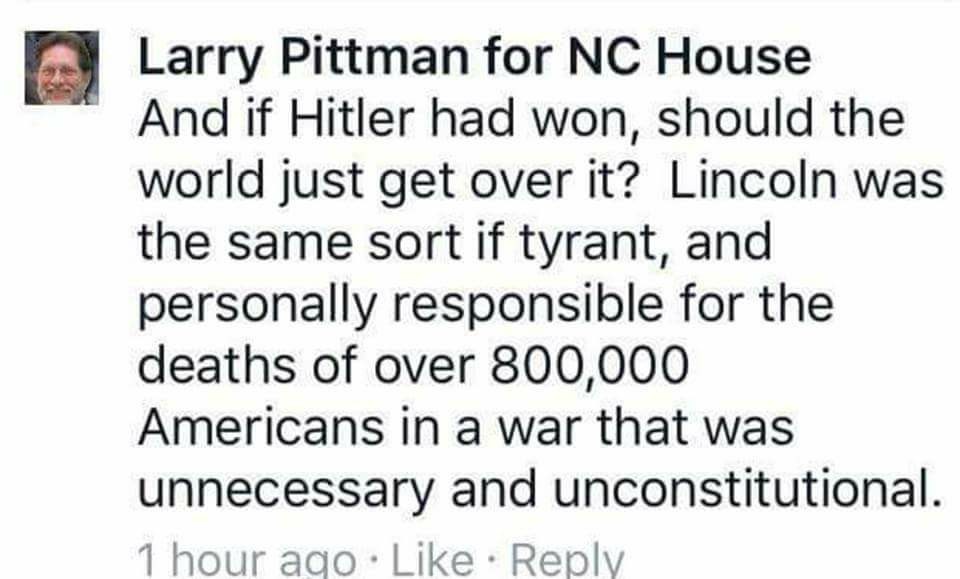 RALEIGH, N.C. — A North Carolina Republican legislator compared President Abraham Lincoln to Adolf Hitler on his Facebook campaign page.
Cabarrus County Republican Rep. Larry Pittman posted the comments on Wednesday in response to criticism he had been facing from legislation that he and others sponsored in the General Assembly to restore a state ban on same-sex marriage.
"And if Hitler had won, should the world just get over it?" he wrote. "Lincoln was the same sort if tyrant, and personally responsible for the deaths of over 800,000 Americans in a war that was unnecessary and unconstitutional."
Pittman has not commented on his statements.
He was among the North Carolina House Republicans who filed a bill Tuesday that would reinstate the state constitution's ban on same-sex marriage.
House Bill 780, titled "Uphold Historical Marriage Act," would direct the state government to defy a United States Supreme Court ruling.
The bill, however, will not be heard as it did not draw support from Republican leadership, including North Carolina House Speaker Tim Moore (R-Cleveland).
In 2012, Pittman made headlines for expressing views that he wanted to bring back public hangings for criminals and doctors who perform abortions.