This is an archived article and the information in the article may be outdated. Please look at the time stamp on the story to see when it was last updated.
ASHEVILLE, N.C. — A North Carolina police officer has been suspended without pay for the equivalent of eight 40-hour workweeks after he spit on a teenager.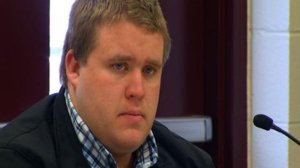 The Asheville Citizen-Times reported that Asheville's Civil Service Board upheld the lengthy unpaid suspension for officer Jonathan Collins.
Collins claims he never meant to spit at the 17-year-old last April. He said he was spitting on the street and the boy passed by. The officer appealed, saying the discipline was too harsh.
The board sided with the city that Collins actions were inappropriate, according to WLOS. In addition to the suspension, Collins took sensitivity training classes, wears a body camera and got his final written notice.
The former police chief called Collins' actions inhumane and disrespectful, according to the paper.