This is an archived article and the information in the article may be outdated. Please look at the time stamp on the story to see when it was last updated.
MOORESVILLE, N.C. — A North Carolina mother says her autistic son couldn't go to a drive-thru wildlife park because his service dog is not allowed there.
Ashley Collard told WSOC-TV that it recently happened to her and her 7-year-old son Ethan at the Lazy 5 Ranch in Mooresville.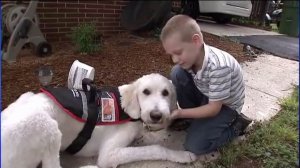 Ethan always has his dog Thor by his side. His mom says they wanted to go to Lazy 5 to see the animals, like zebras and giraffes.
But when they called an employee, the employee said dogs, even service dogs, aren't allowed. The mother says the owner repeated the same rule when she talked to him.
"Thor makes it so Ethan can access places," Collard said. "So by not allowing Thor, they're not allowing Ethan access."
Collard believes Lazy 5 is discriminating against her son, but owner Henry Hampton told WSOC the rule is about safety.
"We have had one very bad experience, about 10 years ago, where a couple let a dog get out in the drive-thru and the zebras killed it immediately," Hampton said.
Hampton says the animals at Lazy 5 will react to a dog, service trained or not.
"It's going to change the way the animals act," Hampton said. "And there would be a portion of animals that would want to threaten or challenge and want to fight what's in there."
Hampton said he did agree to allow Thor to stay in the car, but not go into the drive thru portion of the ranch. But that would have still separated Thor and Ethan if Ethan wanted to see those animals. Collard wants the rules changed at Lazy 5.
"They need to allow access to all people with disabilities and not pick and choose who they want," Collard said. "It's a public place. They need to allow everyone to go."