This is an archived article and the information in the article may be outdated. Please look at the time stamp on the story to see when it was last updated.
KINGS MOUNTAIN, N.C.– A mother is outraged as she claims her daughter with autism was punched and pepper sprayed by a school resource officer — beaten so badly that she had to be hospitalized.
Cleveland County District Attorney is investigating the incident that happened last Friday at Kings Mountain High School.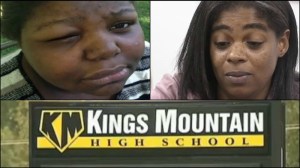 Kristina Wilson told WSOC there was a confrontation between her 15-year-old daughter Tiana and a resource officer on campus that led to a  phone call from the school that her daughter was in the hospital.
Wilson said Tiana had several bruises and reeked of pepper spray. She said Tiana told her the officer tried to restrain her, then wrestled, sprayed her, then hit her.
Because of Tiana's special needs, the school has a written plan of action to follow if there is a problem. But Wilson says that plan wasn't followed Friday.
Now the mother is thinking about finding a different school for her daughter.
Police say they are investigating and will determine if charges should be filed.
Source: WSOC