This is an archived article and the information in the article may be outdated. Please look at the time stamp on the story to see when it was last updated.
UNION COUNTY, N.C. — A North Carolina mother believes bullying led to her transgender teenager's suicide, according to WSOC.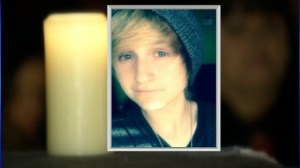 Ashlyn Haffner's mother went back to the road where her child died, near their Indian Trail home Thursday night.
April Quick placed flowers and a balloon where she found her 16-year-old child's body. An accident report said Ash stepped into the path of an oncoming vehicle.
"I didn't want to believe it was her," Ash's mother cried, while staring down at the memorial. "I just held her and told her I loved her until the ambulance came."
Quick said Ash's suicide was the result of years of bullying, which became worse when Ash decided to transition from female to male and be referred to using the pronoun "he."
Read full story: WSOC