This is an archived article and the information in the article may be outdated. Please look at the time stamp on the story to see when it was last updated.
WAKE COUNTY, N.C. — A North Carolina man is accused of threatening to crucify a judge who handled a domestic violence case against him, WTVD reports.
Arrest warrants show Keith Kemsley, 52, made social media threats against District Court Judge Ned Mangum that described crucifixion "in the biblical sense." Kemsley is also accused of saying "putting (Mangum) up on the crucifix will be my pleasure."
Deputies questioned Kemsley after getting a complaint about his posts and he admitted to making them, according to WRAL. The post's increasingly violent content led to the arrest.
"Now I am going after that crooked POS Ned Mangum," Kemsley wrote in an email. "He is dirty for sure and I will crucify him if the #AmericanWay is a real deal."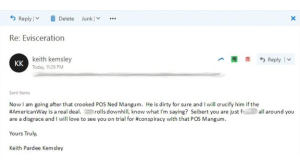 "Unfortunately, there's people that use social media to vent, and some of it, you just sort of ignore," said Wake County Sheriff Donnie Harrison. "But when it goes beyond, that's when you start looking into it."
Kemsley's estranged wife obtained a domestic violence protective order against him in 2015, and Mangum extended it November 2017, court documents show.
He is charged with threats against executive, legislative, or court officers.
Mebane man accused of threatening Wake County judge on social media. #ABC pic.twitter.com/eJnGTxTwEN

— Ed Crump (@EdCrumpABC11) May 18, 2017