This is an archived article and the information in the article may be outdated. Please look at the time stamp on the story to see when it was last updated.
KANNAPOLIS, N.C. — A worker at a North Carolina restaurant is being praised for his quick thinking that stopped a would-be robber.
Marsaille Powell was reporting to work at the Cook Out in Kannapolis on Tuesday morning when it happened.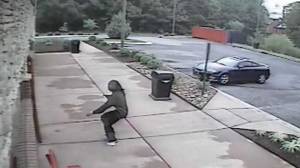 "I was going in the door and heard some shuffling behind me," he said. "That's when I looked back and saw somebody running up toward me. I was just trying to get inside as quick as I could."
Lieutenant Terry Spry with the Kannapolis police says Powell's reaction – to get inside the restaurant and even remembering to take the key out of the door – is not typical. Spry said most people would have frozen up.
Four years ago, Powell says he was held up while working at another Cook Out in charlotte, but he won't let criminals scare him away from work.
"I gotta earn a check. Wife and kids," he said.
The suspect had a ski mask on. He's only described as a thin black man with dreads. He did try to get in the locked door before taking off running Tuesday morning.
Powell is grateful the security cameras caught the confrontation. His advice to criminals casing this restaurant – stay away and get a job.
CNN contributed to this report.