This is an archived article and the information in the article may be outdated. Please look at the time stamp on the story to see when it was last updated.
CHARLOTTE, N.C. — Veola Jackson held her son tight at the Charlotte Fire Department Friday as firefighters replayed the 911 call for help she made in the early morning hours of July 12.
WSOC-TV reported that the Jackson family's home had caught fire and Veloa, her husband and their two sons, Tony and Devon, were trapped inside an upstairs bathroom. A small window was all the family had to access the air.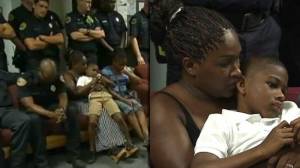 "I remember thinking about dropping the kids out of the window," said Veola. "They may have broken an arm or leg but at least they would be alive."
The family survived and on Friday, they reunited with their rescuers for the first time since the fire.
Tony Jackson, 9, shared a card he made for the firefighters.
"I wanted to thank them for saving my life," said Tony.
Officials said the fire was caused by an unattended candle on the lower level of the home.
Firefighters were able to get upstairs to where the family was trapped and rescue them.
"They were scared and it was hot," said firefighter Mark Lapiana. "I grabbed each boy and told them to take a deep breath of air from the window and then we carried them out."
The family also gave a special thanks to the dispatcher who got help to them as quickly as possible.
Wes Antry told WSOC he did his best to keep the family calm.
"Any time there are children involved in calls, it's heartbreaking," said Antry. "Today, getting to see and hug the family was amazing. It's a blessing they're alive."
"I'm forever grateful," said Veola. "My family is alive."