This is an archived article and the information in the article may be outdated. Please look at the time stamp on the story to see when it was last updated.
SPINDALE, N.C. – A grand jury has indicted five members of a North Carolina church for allegedly kidnapping and beating a man because he's gay.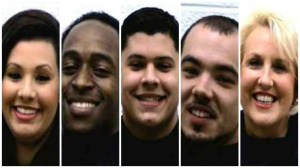 WSPA-TV reported that five members of the controversial Word of Faith Fellowship in Spindale were indicted earlier this week in connection to the alleged crime.
Sarah Covington Anderson, Adam Bartley, Brooke Covington, Justin Covington and Robert Louis Walker Jr. were charged Tuesday with simple assault and kidnapping. Anderson also faces a charge of assault by strangulation.
Matthew Fenner claims he was beaten by members of the church last year.
Fenner said the church was trying to cure him for being gay and wanted to break him free of the "homosexual demons."
"I honestly thought I was going to die," Fenner said. "My head was, like, being flung back, my vision was going brown and black… I couldn't breathe and I'm sitting here thinking, 'If I don't get out of this, I'm probably going to die.'"
Word of Faith Fellowship lawyer Josh Farmer told WSPA-TV in an email that the suspects are innocent. He said the church does not target gay members.
Word of Faith was investigated twice in the late 1990s for its treatment of children, but was cleared of any wrongdoing.