This is an archived article and the information in the article may be outdated. Please look at the time stamp on the story to see when it was last updated.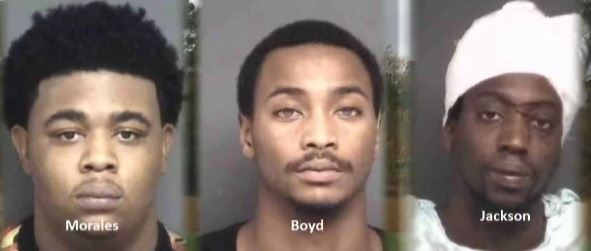 PITT COUNTY, N.C. — Three children saved their mom by calling 911 from a back room in their home when robbers broke into their house and robbed their mother, according to WCTI.
The home invasion happened around 1 a.m Saturday at a home on County Home Road in Greenville.
Deputies arrived on scene thanks to three children hiding in the back room who called 911.
The victim told deputies that three suspects with large, machete-type weapons/knives broke into her home.
One of the suspects held the weapon to her throat, choked her, and demanded money.
All three suspects were found nearby with stolen property from the house.
Both the mother and her fiance were injured. There is no word on their conditions.
Emmanuel Dominique Morales,18, Shawn Boyd, 20, and Tracey Lee Jackson, Jr., 23, all of Greenville, were arrested.
All three suspects are charged with first degree burglary, robbery with a dangerous weapon; two counts of assault with a dangerous weapons infliction serious injury, two counts of kidnapping of a person less the sixteen years of age, and three counts of kidnapping of a person over sixteen.
Morales was also charged with assault by strangulation.
The three men are being held in Pitt County Detention Center under a $500,000 secure bond.
Source: WCTI