This is an archived article and the information in the article may be outdated. Please look at the time stamp on the story to see when it was last updated.
CHARLOTTE, N.C. — A North Carolina boy with a life-threatening illness is on his way to Disney World thanks to local nonprofits and American Airlines.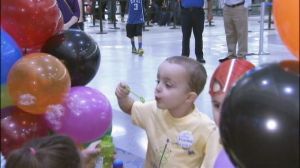 WSOC-TV reported that the Waxhaw boy's family joined another North Carolina family on Friday for a huge send-off at Charlotte's airport.
"We knew that this was going to be a week without having to worry about anything," said his mother Lauren Quinn.
Quinn said her 3-year-old son Jace is ready to leave their home in Waxhaw and get to the "Happiest Place on Earth."
"To see Mickey Mouse and Goofy and Donald Duck," Quinn said.
She said this trip is especially needed since Jace battles a bone marrow failure disorder.
"We're at the hospital about every two weeks for his checkup, sometimes every week," Quinn said. "Jace actually makes it very easy not to be like down at all because he's so brave."
Jace's family is joining a boy from Mount Airy, North Carolina, for an all-expense paid trip to Orlando made possible by American Airlines, Make-A-Wish and the Something Magic Foundation.
"To make them forget about what's going on with their illnesses and just have a really fun day," said Katie Cody with American Airlines.
Read more: WSOC-TV