This is an archived article and the information in the article may be outdated. Please look at the time stamp on the story to see when it was last updated.
MOORESVILLE, N.C. — A Mooresville restaurant is getting ready to close its doors and they might never reopen.
Randy Rodecki, owner of Carolina Ribs on the Run, told WSOC-TV that he racked up debt during the Brawley School Road construction project between 2010 and 2013.
The construction closed the most visible entrance into his restaurant's parking lot for several months.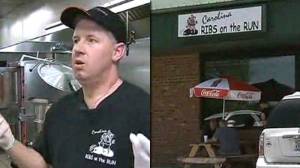 "It cost us roughly $850 a day to stay open during the road construction," said Rodecki.
An NCDOT representative told Eyewitness News that the project was necessary because congestion on the former two-lane Brawley School Road ranged from 7,800 to 31,900 daily. The counts are expect to increase between 9,200 to 44,700 by 2030, the representative said.
Rodecki filed complaints with NCDOT and the Department of Justice but was not successful.
"Three years of being angry at the state hasn't done anything for me, except make me angrier, so I need to concentrate more on moving my business, keeping my business and on my family," said Rodecki.
Rodecki plans to close his restaurant on Aug. 2. However, he's now turning to the community to try and help him move to a new location.
Rodecki created an account on GoFundMe.com to take donations. He said anyone who donates will be asked to give their email, and the restaurant will give them a gift certificate worth double the donation to use if the restaurant reopens.
Langtree Lake Norman has agreed to help upfit the restaurant if Rodecki can get the funds to move it, he said.
"Whatever anyone can do we appreciate it, we're not looking for a handout, we're looking for help," said Rodecki.