This is an archived article and the information in the article may be outdated. Please look at the time stamp on the story to see when it was last updated.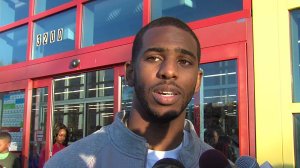 WINSTON-SALEM, N.C. — NBA All-Star Chris Paul is shelling out a donation big enough to land his name on a new Wake Forest University locker room, according to the university.
The Wake Forest alumnus donated a massive $2.5 million to his alma mater in support of Wake Forest Basketball.
"Giving back has always been important to my family and me, and Wake Forest is part of my family," Paul said in a news release.
While Paul is no stranger to supporting the program, this donation from the Houston Rockets point guard smashed the Wake Forest record for the largest donation ever given by a former basketball student-athlete or any alumnus under the age of 35, the university announced.
Those funds propelled fundraising efforts toward developing new men's and women's basketball clubhouses with significant improvements to locker rooms, nutrition resources and treatment areas.
In thanks, the men's basketball team will be able to ready for games in the new Chris Paul Locker Room.
"The recent investments towards improving Wake Forest Athletics are amazing, and now is the time to give back in a meaningful way," Paul said in the release. "The locker room transformation project inspired me, because that's where players build relationships and create a unifying camaraderie that is the foundation of success on the court. Forming lifelong friendships with your teammates is one of the most rewarding aspects of sports."
Paul joined Wake Forest Director of Athletics Ron Wellman to announce the donation at the Chris Paul Family Foundation Charity Golf Classic on Tuesday.