This is an archived article and the information in the article may be outdated. Please look at the time stamp on the story to see when it was last updated.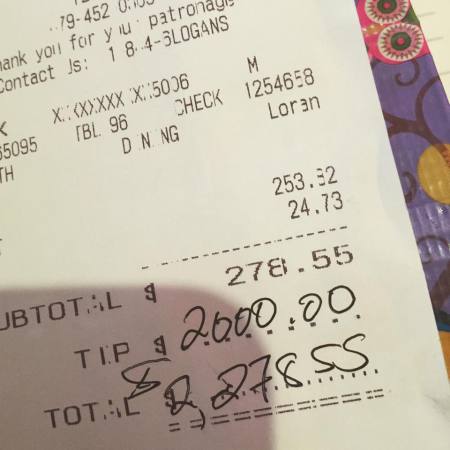 FORT SMITH, Ark. — An Arkansas waitress could not believe her eyes after getting the tip of a lifetime.
Good Morning America reported that 19-year-old Loran Lopez got a $2,000 tip late last month while working at a Logan's Roadhouse restaurant.
She told KFSM she said she was completely shocked when she discovered the receipt showing her tip.
Lopez said she didn't personally know the woman who left the tip, but she had heard of the customer before. The customer was reportedly known for being a good tipper. The waitress said it was the first time she served her and actually spoke with her.
The waitress said she didn't look at the receipt immediately when it was handed to her. But when she did look at it later, she was stunned.
"I'm pretty sure my jaw dropped to the floor, and my heart stopped," Lopez said. "I couldn't talk for a good two minutes."
The unnamed customer also gave the bartender a $700 tip and each cook a $100 tip, according to the waitress.
"I had so many rough nights here lately, and then she did that," the waitress said. "I'm forever grateful for it too!"