This is an archived article and the information in the article may be outdated. Please look at the time stamp on the story to see when it was last updated.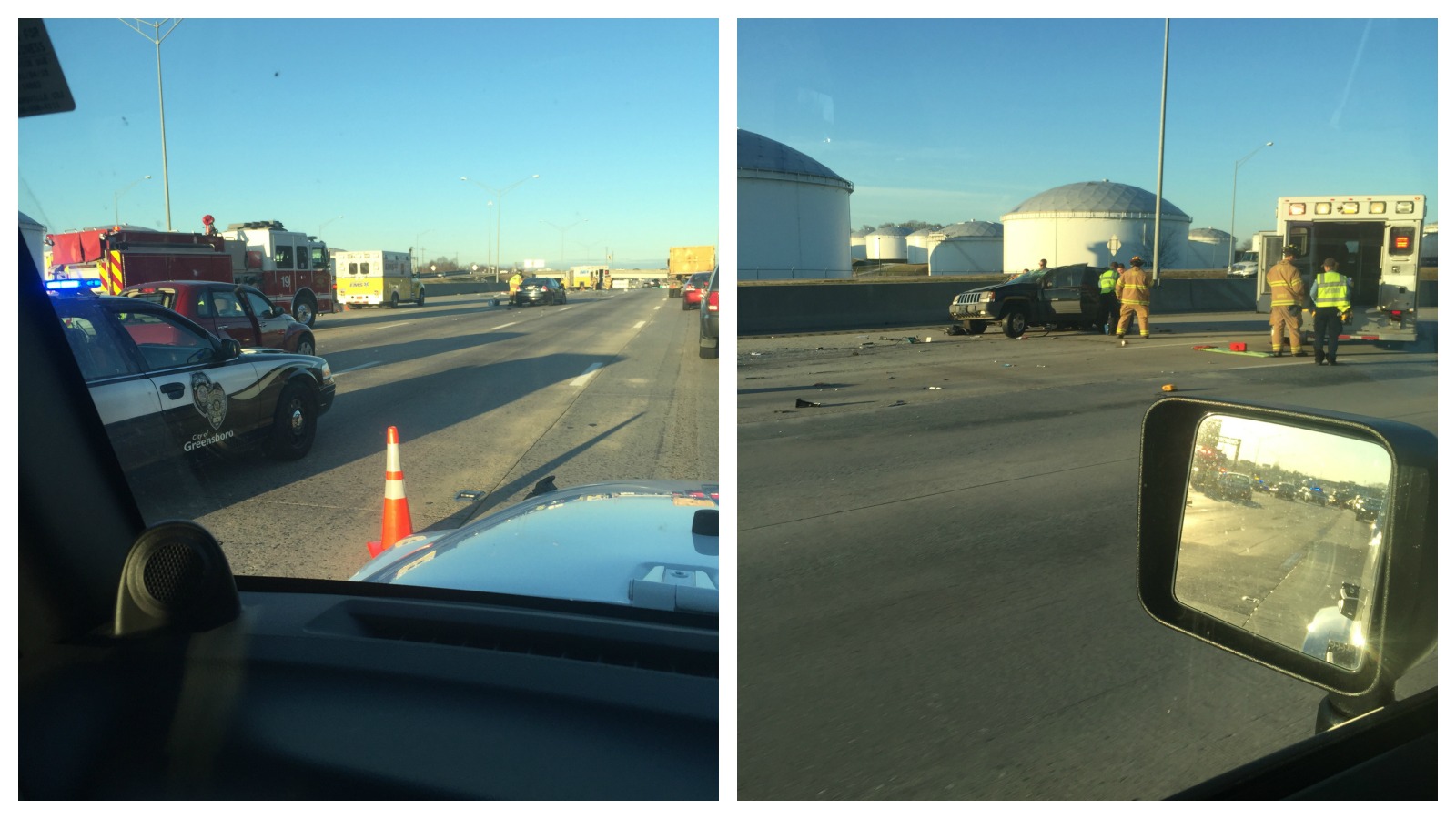 GREENSBORO, N.C. — A multiple-vehicle crash Friday morning on Interstate 40 westbound shut down all five lanes and injured three people.
The accident, which occurred at Gallimore Dairy Road, happened when a vehicle unexpectedly lost power while traveling westbound on I-40, causing two separate collisions.
The PT Cruiser was in the center of seven lanes approaching exit 211 a few minutes before 8 a.m. when it became disabled.
The driver was unable to get the stalled vehicle out of the roadway. Several vehicles following the PT Cruiser were able to avoid striking the car, but the driver of a Ford Fusion was unable to safely to circumvent the vehicle. The passenger's side of the Fusion glanced off the driver's side rear bumper of the Cruiser.
As the driver of the Cruiser was calling GM 911 to report the incident, a second vehicle, a Jeep, struck the Cruiser, flipped on its roof, slid across three lanes of traffic and righted itself facing eastbound in far left lane of westbound traffic.
The driver and occupant of the Jeep were taken to a local hospital for treatment of non-life-threatening injuries. The driver, and only occupant, of the PT Cruiser was transported to hospital after complaining of neck and back pain. The driver of the Fusion did not report any injuries.
No moving violations were issued to any of the drivers involved in the collisions.
The incident closed four westbound lanes of I-40 between the exit ramp for Galllimore Dairy Road and the overpass of Gallimore Dairy Road for approximately an hour and 15 minutes as crews from the Department of Transportation removed debris from the road.
https://twitter.com/happylittlenerd/status/545930148592492546
@myfox8 i40 is at a complete standstill westbound 1/2 mile from exit 211 Gallimore Dairy Rd exit

— Marko Rivas (@MarkoRivas) December 19, 2014