This is an archived article and the information in the article may be outdated. Please look at the time stamp on the story to see when it was last updated.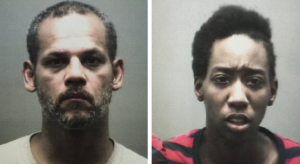 ALAMANCE COUNTY, N.C. — The U.S. Marshal's Office arrested two people Wednesday in connection with a two-month human trafficking and prostitution investigation in Alamance County.
Briana Lashera Morrison, 30, and William Lee Reynolds, 30, were arrested by the U.S. Marshal's Fugitive Task Force at the Econo Lodge in Burlington, according to Alamance County Sheriff Terry Johnson.
In addition, the Alamance County Sheriff's Office executed a search warrant in connection with the investigation to room 224 at the same hotel. Joseph Daniel, 34, and Carla Bailey, 22, were charged with resisting arrest, possession of cocaine and possession of drug paraphernalia, among other things.
Daniel had multiple outstanding warrants for arrest.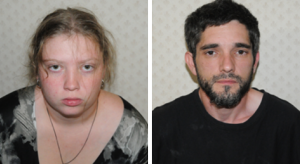 The investigation began with a citizen saying his granddaughter was involved in drugs and prostitution. Johnson says multiple hotels have engaged in hosting the prostitution and human trafficking rings.
During a press conference Thursday, Johnson mentioned two female victims ages 32 and 27. Because of the nature of human trafficking and the desire to protect the victims, he didn't go into further details but indicated there are more.
Reynolds has been charged with 14 counts of human trafficking, 14 counts of sexual servitude and one count of promoting prostitution. Morrison is charged with promoting prostitution.
Reynolds is in jail under a $3 million bond while Morrison is being held on a $10,000 bond.
All four have first appearances in court at 2 p.m. Thursday.
Additional charges could be pending.
Sheriffs also arrested Briana Morrison with Reynolds. Reynolds held under $3 million bond. Morrison held at $10 thousand. @myfox8 pic.twitter.com/9mLQXwk3x2

— Alex Rose (@AlexRoseNews) July 6, 2017
William Reynolds has been charged with 14 counts of human trafficking and 14 counts of sexual servitude, 1 count of promoting prostitution. pic.twitter.com/uCmVJmStj7

— Alex Rose (@AlexRoseNews) July 6, 2017