This is an archived article and the information in the article may be outdated. Please look at the time stamp on the story to see when it was last updated.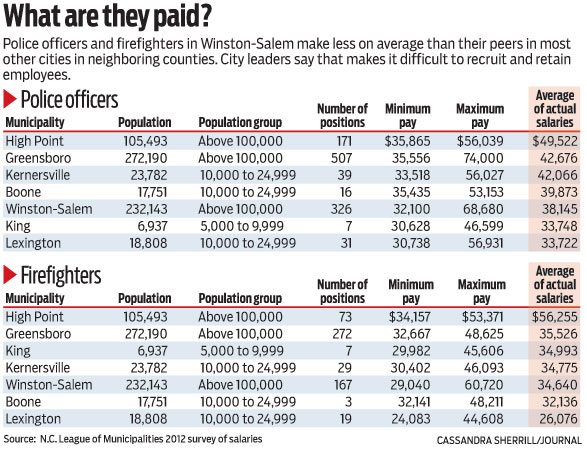 WINSTON-SALEM, N.C. — Most employees who work for the city of Winston-Salem, from the rank-and-file police officer to the top-brass supervisor, get paid less on average than their peers in eight other large North Carolina cities, according to a review of 2012 salary data obtained by the Winston-Salem Journal.
The eight other cities are Greensboro, High Point, Durham, Cary, Wilmington, Fayetteville, Raleigh and Charlotte, according to data submitted by cities with populations of at least 100,000 in an annual salary survey done by the N.C. League of Municipalities, a nonprofit advocacy organization.
A comparison of the average salaries for three rank-and-file positions offers a glimpse into the disparity:
• Winston-Salem's 167 firefighters made an average $34,640, about 12 percent less than their peers' average salary of $39,426.
• Executive assistants working for the city of Winston-Salem faced the largest percentage disparity — $33,640 here to $58,644 in the other cities, a difference of 42 percent, according to the NCLM data.
• Winston-Salem's 326 police officers earned $38,145 in 2012, about 13 percent less than the average salary of $43,922 for police officers in the other eight cities.
Determining public-sector salary levels can be a difficult task, according to Brian Balfour, the policy director at the conservative Civitas Institute based in Raleigh.
While salaries for private-sector employees can be gauged based on consumer demand, he said, the measuring stick for public-sector salaries is not as clear. As a result, he said, it can be difficult to determine whether Winston-Salem should move in the direction of other cities by raising salaries or whether the other cities should move their salaries toward Winston-Salem's levels.
Read full story: The Winston-Salem Journal