This is an archived article and the information in the article may be outdated. Please look at the time stamp on the story to see when it was last updated.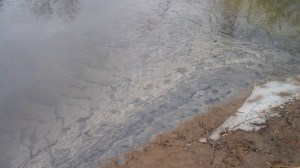 EDEN, N.C. — Environmentalist and the EPA returned Wednesday to conduct more water test of the Dan River after 27 million gallons of ashy water along with nearly 82,000 tons of coal ash flowed into the river from a Duke Energy coal plant.
Company officials say a 48-inch storm water pipe snapped on Sunday evening at the steam station which closed in 2012.
"This is an alarming situation," said T. Butler with the Dan River Basin Association, who in addition to the impact on humans and drinking water is concerned for wildlife. "I'm concerned about the birds, I'm concerned about the fish. I'm considered about the little critters that live on the bottom."
Several environmental groups are calling it one of the worst spills in U.S. History and are questioning why Duke Energy waited nearly 24 hours before notifying the public. "We immediately began working with our local and internal emergency response folks," said Duke Energy spokesperson Paige Sheehan on Tuesday. "Calling in engineers to help us with a solution."
Environmentalist worry about the long term impacts, saying the ash contains mercury, lead and arsenic which is known to cause health problems.
Rockingham County officials say the drinking water is safe. Initial water quality testing from the state also confirms water from the Dan River is safe.
Preliminarily test results by city officials in Danville say the water is safe but are awaiting more test. Environmental groups are running their own test and hope to have the results by early next week.