This is an archived article and the information in the article may be outdated. Please look at the time stamp on the story to see when it was last updated.
HOPE, Ind. — A startling new photo shows an Indiana woman passed out behind the wheel of a car after an apparent heroin overdose with a syringe clutched in her fist.
This is exactly how police found 25-year-old Erika Hurt in a parking lot Saturday in Hope. What's more disturbing is the fact that her infant son was found crying in the back seat.
According to a statement issued by the Hope Police Department, officers gave Hurt two doses of narcan, a drug that is used to reverse a narcotic overdose in an emergency situation. She was then transported to Columbus Regional Hospital.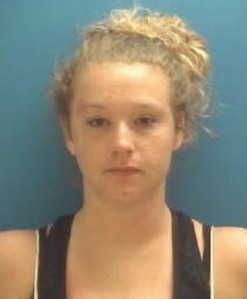 Upon being released, she was sent to Bartholomew County Jail and charged with violating her probation, possession of paraphernalia, and neglect of a dependent.
"Had this woman not passed out from this and attempted to drive right afterward, she could have (driven) down the road, passed out two minutes later and hit a car with a family in it, killed every one of them," Hope Town Marshal Matthew Tallent told CNN. "That's the thing that's so shocking to me to think about."
Hurt's 10-month-old son currently lives with his grandmother, who has been granted guardianship over him by Child Protection Services.
"I think it's a sad situation that this woman has put her child in," Tallent said.
Hurt was still being held Thursday at the county jail and could not be reached for comment. Formal charges had not been filed with the county courts, and neither Tallent nor a clerk at the courthouse knew Thursday whether Hurt had retained a lawyer.
Jami Smith, Hurt's mother, told WXIN that she wished authorities hadn't publicized the photo of her daughter.
"This was a mistake. I do not condone it. Trust me there is nobody that was more angry than me and once she was back up on her feet, before she even went to the hospital she knew how I angry I was," Smith said.
The story of Erika Hurt fits into a grim pattern, as research shows heroin use is on the rise in the United States. The most recent United Nations' World Drug Report found that 914,000 people aged 12 years or older reported using heroin in 2014 — a 145% increase since 2007. Heroin-related deaths have increased fivefold since 2000.
As the numbers continue to rise, photos like this one seem to emerge with increasing regularity. While they evoke shock and frustration, they can also be used to help spread awareness about the epidemic of opiod abuse in the US.
Police in East Liverpool, Ohio, released a set of similar photos last month of a man and woman passed out in the front seat of a car with a child sitting in the back. The couple had overdosed on heroin, police said.
"We are well aware that some may be offended by these images and for that we are truly sorry, but it is time that the non drug using public sees what we are now dealing with on a daily basis," the East Liverpool city government said on Facebook.