This is an archived article and the information in the article may be outdated. Please look at the time stamp on the story to see when it was last updated.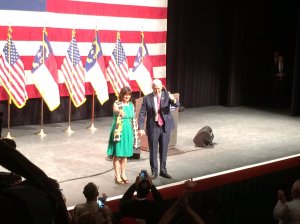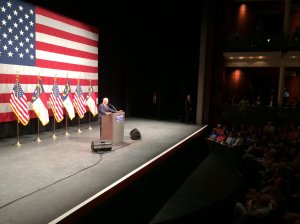 RALEIGH, N.C. — Republican vice presidential candidate Gov. Mike Pence is campaigning in Raleigh Thursday morning.
He is set to appear at the Fletcher Opera Theatre at Duke Energy Center for the Performing Arts.
The event begins at 10 a.m. Doors open at 7:30 a.m.
Democratic vice presidential candidate Sen. Tim Kaine campaigned in the Piedmont Triad on Wednesday. Both candidates are campaigning without their respective presidential nominees.
Pence: "Donald Trump will never forget the men and women who stand on the thin blue line of law enforcement in this county." @myfox8

— Amber Roberts (@AmberFOX46) August 4, 2016
@mike_pence takes the stage at his town hall event in Raleigh @myfox8 pic.twitter.com/HYoru5LPph

— Amber Roberts (@AmberFOX46) August 4, 2016
Buck Newton,
Republican nominee for Attorney General of North Carolina, making a speech at @mike_pence event @myfox8

— Amber Roberts (@AmberFOX46) August 4, 2016
Press officials for @mike_pence's event in Raleigh say event starts at 9 a.m. However, Trump's website says event starts at 10 a.m. @myfox8

— Amber Roberts (@AmberFOX46) August 4, 2016
@mike_pence visiting NC today. Hosting a town hall in Raleigh @ Duke Energy Center for the Performing Arts @myfox8 pic.twitter.com/t7af4vr3Ir

— Amber Roberts (@AmberFOX46) August 4, 2016