This is an archived article and the information in the article may be outdated. Please look at the time stamp on the story to see when it was last updated.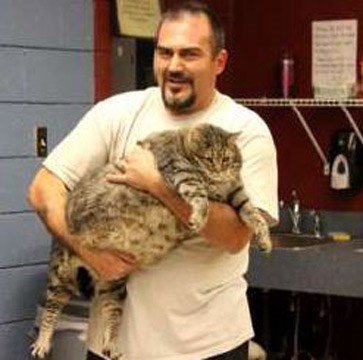 PHOENIX (KPHO) — In human vernacular, "fat cat" is a wealthy and privileged individual, according to Merriam-Webster.
In the feline world, it means Meatball, a 36-pound cat surrendered to the Maricopa County Animal Care and Control's East Valley Animal Care Center in Mesa.
Meatball is "the biggest cat I have ever seen," said Melissa Gable of the MCACC.
Despite his size, the affectionate Meatball can walk, but the shelter's veterinary team said it is watching his health closely.
The shelter took in a 28-pound cat in August, and the largest cat on record was from Cairns, Queensland, which weighed in at 46 pounds, according to Guinness World Records.
MCACC staff said Meatball had apparently been shuffled from home to home before being brought to the shelter.
Meatball is so large, he can't comfortably fit in the shelter's regular cat kennels and is living in one of the administrative offices at MCACC's West Valley Animal Care Center in Phoenix.
MCACC staff said they are trying to find a spot with a rescue organization that specializes in overweight cats because of his risk for severe health issues, the need for constant monitoring and because he needs a special prescribed diet.
Meatball is not available for general adoption, the staff said.