This is an archived article and the information in the article may be outdated. Please look at the time stamp on the story to see when it was last updated.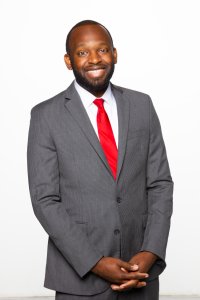 Meet Tracy Clemons, a new morning news anchor at FOX8!
His first day on the air will be next Monday, July 9. He will work alongside Cindy Farmer, Brad Jones, Melissa Painter and meteorologist Emily Byrd on the weekday morning news, which runs from 4:30 a.m. to 10 a.m. weekdays.
Clemons, a native of Virginia, is a graduate of the University of Virginia and earned his master's degree in broadcast journalism at the University of Maryland College Park. He and his wife are thrilled to be back home in the region and close to his family. They live in Greensboro with their two young children.
Clemons' journalism career has taken him across the country. He began as a reporter in Charlottesville, Virginia, where he covered the disappearance of Virginia Tech student Morgan Harrington and the murder of University of Virginia lacrosse player Yeardley Love.
He then worked as a reporter and anchor in Shreveport, Louisiana, and as a multi-media journalist in St. Louis. His last stop prior to the Piedmont Triad was at KTRK, the ABC affiliate in Houston, where he was a reporter and fill-in anchor. He covered some of the biggest stories in the Houston region. He also traveled to cover some of the biggest stories in the country including the Ebola outbreak in Dallas, Michael Brown's death in Ferguson, the police shooting of Alton Sterling in Baton Rouge and the Charleston church massacre.
While he's covered his share of breaking news, Clemons is most proud of his record of being a voice for people whose stories have been historically underrepresented on local news and telling community-oriented stories that make viewers smarter and more engaged.
He is a member of the Alpha Phi Alpha Fraternity and the National Association of Black Journalists.
Clemons replaces Kerry Charles, who left WGHP in May to work at an Atlanta TV station.
Follow him on Facebook here or email him at Tracy.Clemons@wghp.com.