This is an archived article and the information in the article may be outdated. Please look at the time stamp on the story to see when it was last updated.
ROWAN COUNTY, N.C. — Three people who deputies say have ties to the Mexican drug cartel were arrested Tuesday in a large heroin trafficking operation in Rowan County.
Gerardo Juarez, 39, Sergeyevna Borovkaya, 26 and Hugo Fernando Navarrete-Lopez, 27, were all arrested in connection with the ring, according to a press release.
In 2013, the Rowan County Sheriff's Office started investigating a large-scale heroin distribution in the county. Authorities believe a Mexican National heroin trafficking ring based in the Charlotte-Matthews area had been supplying heroin for more than a decade.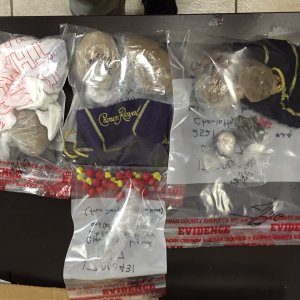 Throughout the investigation, several purchases of heroin were made, which led to the discovery of the drug in the area.
In December 2016 and January 2017, two suspects sold heroin to undercover agents. One exchange took place inside a restaurant bathroom while others occurred in various parking lots.
On Tuesday, Juarez was arrested in a Walmart parking lot while additional deputies searched his home. He had 52 grams of heroin in his possession while 478 grams of heroin, two handguns, one rifle, ammunition, numerous telephones among other things were found inside his residence.
Borovkaya and Navarrete-Lopez were arrested in Mecklenburg County for their involvement in the ring. Deputies found thousands of dollars of drug sales and clear evidence that they had been in direct communication with a Mexican National Drug Trafficking Organization.
Juarez was charged with four counts of trafficking heroin and one count of conspiracy to traffick heroin. Navarette-Lope was charged with trafficking heroin and Borovskaya was charged with six counts of trafficking heroin and one count of conspiracy to traffick heroin.
All three were placed under a $1 million bond.
The investigation is ongoing and additional arrests are expected.