This is an archived article and the information in the article may be outdated. Please look at the time stamp on the story to see when it was last updated.
GUILFORD COUNTY, N.C. — Sheriff BJ Barnes on Tuesday said a Pleasant Garden woman acted alone when she killed five children before herself in a shooting rampage last November.
In a prepared statement, Barnes said his investigation determined that Mary Ann Holder, 36, was the sole shooter in the tragedy that rattled the tight-knit community on Nov. 20.
Barnes said "there is still no clear motive" as to why Holder took her own life after wounding an ex-lover and killing five children, including her two sons — Robert Dylan Smith, 17, and Zachary Lee Smith, 14.
Holder's daughter, Christina Smith, released her own statement about the investigative findings hours later.
"As of now, the case has arrived at a closing point. Unfortunately we were hoping for a different outcome, but I respect the sheriff's office and all of their findings on this case. Despite the conclusion, I want everyone to know that my mother loved all of her children — biological or not. However, this is a tragedy nonetheless. I appreciate that my privacy has been respected thus far and I am asking that it remain that way as I am still grieving along with the rest of my family. We would once again like to thank the people in the community who have stood by us in the most difficult times of our lives."
The other victims include Holder's niece and nephew — Hannaleigh Michelle Suttles, 8, and Richard "Ricky" Brian Suttles, 17 — as well as her older son's girlfriend — Makayla Leigh Woods, 15.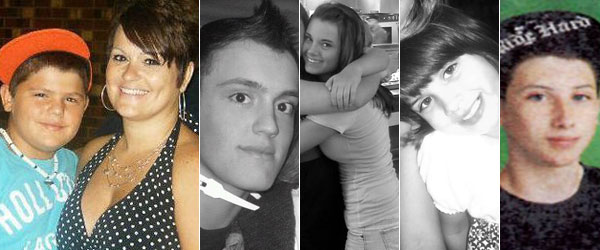 MORE: PHOTOS: Victims | Shooting Timeline | Listen to 911 Call | Suspect's Mom Talks | PDF: Search Warrant on Lamb House
All six victims who died were shot in the head.
Holder's ex-lover, Randall Scott Lamb, 40, was the only one to survive the shootings. He suffered non life-threatening injuries after being shot in the shoulder in the parking lot of the GTCC Aviation Center in Greensboro.
The first shooting took place at Holder's home at 923 Cocoa Drive, where four of the children — Dylan Smith, Hannaleigh and Ricky Suttles, and Makayla Woods — were found shot.
After the second shooting at the GTCC Aviation Center, investigators believe Holder went to pick her younger son up from a friend's home where he stayed the previous evening.
A deputy came upon Holder's vehicle on Remora Road, where the the third and final shooting took place.  Investigators said the deputy witnessed two puffs of smoke as he approached the vehicle.  He found Holder in the driver's seat and Zack Smith in the backseat — both shot.
Barnes said the gun that was found in Holder's hand was the same weapon used in each shooting, according to ballistics testing. Two other guns were found in the SUV, but neither were used, Barnes said.
Investigators also looked at Holder's cell phone use to determine her points of travel on the day of the shootings.
While the investigation has not been finalized due to unfinished results from the Medical Examiner's office, Barnes said detectives do not expect any forthcoming evidence to change the findings.
"NO CLEAR MOTIVE"
In November, Barnes said the shootings appear to have been connected with an affair between Holder and Lamb.
Lamb's wife, Jennifer Lamb, wrote in documents from a restraining order case in February that Holder and her husband started an affair in 2008. The case was dismissed because neither the Lambs nor Holder showed up for court.
Holder filed a restraining order against Randall Lamb in July, saying he was threatening her. Holder wrote in the documents that Randall said he would stop his wife from filing an alienation of affection lawsuit "if I give him what he wants."
A warrant obtained by FOX8 indicated Holder gave a $10,000 check to Randall Lamb the day before the shooting in the parking lot of the Walmart on Elmsley Drive in Greensboro. The check was made out to Jennifer Lamb, according to the warrant.  Detectives keeping the check as evidence.
Later documents showed Holder also filed a child custody complaint three days before the shooting. Holder wanted permanent custody of the Suttles children.
In November, Barnes said two notes were found that appear to be written by Holder. In one of the notes, Holder mentions being wronged in the affair, Barnes said. He would not disclose where the notes were found.
"These notes basically take responsibility and apologize for the actions that were taken," Barnes said.
In a Nov. 29 interview with FOX8's Cindy Farmer, Holder's daughter said she no indication that anything was wrong.
"I believe that everything has happened for a reason that led up to this moment. I will never know those reasons. I don't think I need to know those reasons," said Christina Smith, who stayed close to Holder even after her parents divorced.
Holder's ex-husband, Rocky Smith, also said he had no indication that anything was wrong, saying Holder had even bought a carload full of groceries the day before the shootings.
Beyond that, though, neither would speculate on why they thought Holder would commit such an act.
"My mom and I spoke on the phone 50 times a day. That's not a joke. This morning I stupidly picked up the phone to call her like I did every morning, and that's hard. We've had our share of losses as a family as a whole, but nothing like this," Christina said.
Instead of only dwelling on the negative of losing so much of their family, the father and daughter said they also wanted to focus on doing something positive.
STAYING POSITIVE
With a focus on the positive, family members chose to donate the organs of Zack, Hannaleigh and Ricky Suttles.
"I think we are up to about 21 people that their lives have touched, and I am sure there is going to be more through tissue donation and things of that nature," Rocky said during the Nov. 29 interview.
The organs were harvested in order to grant waiting recipients a second chance at life.
"We've heard of a child up north who got a heart from Zack and a young child here in the Triad who actually got a kidney from Zack," Rocky said.  "I hope I get to meet all of those folks one day."
Organ donations benefit thousands of recipients each year, and one donor's organs can help more than a half-dozen people.
"It's a gift that you leave behind that helps so many," Beth Hinesley with Carolina Donor Services said. "It's not just the one whose life was saved, but it's keeping families together."
Anthony Mason, who was in desperate need of a liver transplant in 2000, said he was pretty much waiting to die.
After months of waiting however, he got the call saying he would be receiving a liver from an anonymous donor.
"I actually play volleyball about three days a week now and workout almost every day," Mason said.
At a funeral for the children at Pleasant Garden Baptist Church on Dec. 1 — the day Makayla Woods would have turned 16 — grievers also searched for the positive influences that each victim shared in their lives.
Megan and Maria Klebosis, two of Makayla's close friends, were among dozens who sang to her casket.
"You never know when it's going to be the last thing, or the last time you say something to somebody," Maria said.
Adam Couch, one of Dylan Smith's best friends, and was a pallbearer at the private burial service one day later.
"I never would have thought in a million years I'd be carrying my best friend to his grave, but I'm honored to do it," Couch said.
For many grievers like Couch, the focus shifted from contemplating the tragedy that occurred to cherishing the warm memories that each child left behind.
"It was good to see them one last time to say goodbye," Couch said. "I'm into remembering everything positive and trying to stay strong for my little brothers and my mother especially."
Pastor Donnie Pickeral of Aycock Fellowship Ministries spoke for Hanaleigh and Ricky Suttles. He presented a message about overcoming grief from John 16.
"For our hearts, that's what I want for this congregation and this family — there is hope. This sorrow can be turned into joy," Pickeral said.
A website set up for donations for the familyhad more than 16,000 hits when last checked.