This is an archived article and the information in the article may be outdated. Please look at the time stamp on the story to see when it was last updated.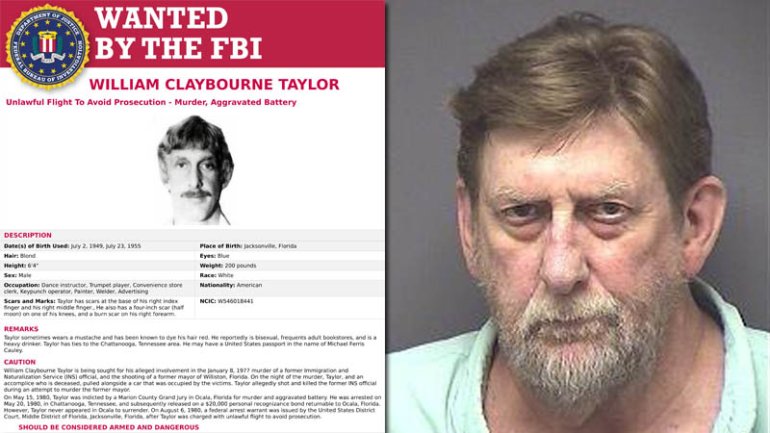 REIDSVILLE, N.C. — A man wanted for his involvement in a murder and plot to kill a Florida mayor 39 years ago was captured Thursday in Reidsville, according to a news release from the Federal Bureau of Investigation.
William Claybourne Taylor, 67, was living in Reidsville under a false name, the release said. Special agents from the FBI Charlotte Division's Greensboro Resident Agency took Taylor into custody Thursday without incident and confirmed his true identity.
Taylor was was wanted for his alleged involvement in the Jan. 8, 1977 murder of a former Immigration and Naturalization Service (INS) official and the shooting of a former mayor of Williston, Florida.
On the night of the murder, Taylor and an accomplice, who is now deceased, pulled alongside a car that was occupied by the victims. Taylor allegedly shot and killed the official during an attempt to murder the former mayor, the release said.
On May 15, 1980, Taylor was indicted by a Marion County Grand Jury in Ocala, Florida for murder and aggravated battery.
He was arrested on May 20, 1980, in Chattanooga, Tennessee, and subsequently released on a $20,000 personal recognizance bond returnable to Ocala. However, Taylor never appeared in Ocala to surrender.
On Aug. 6, 1980, a federal arrest warrant was issued by the United States District Court, Middle District of Florida, after Taylor was charged with unlawful flight to avoid prosecution.
"William Claybourne Taylor thought he could avoid taking responsibility for this horrible crime, but our agents continued an exhaustive search year after year," said Michelle S. Klimt, special agent in charge of the FBI Jacksonville Division. "To echo the words of former FBI Director J. Edgar Hoover, 'The FBI always gets its man.' We thank our law enforcement partners for their assistance and hope this news brings comfort to the families of Taylor's victims."
Taylor is being held in the Guilford County Detention Center.