This is an archived article and the information in the article may be outdated. Please look at the time stamp on the story to see when it was last updated.
HOUSTON — A man, upset after hearing about a Utah school that trashed lunches for students with delinquent lunch account balances, paid off 60 negative lunch account balances at a Houston elementary school this week.
Kenny Thompson, a longtime school tutor, said he felt the need to act after hearing about the incident in Utah, he told KPRC.
"I'm like, 'Wow. I know that's probably a situation at my school, and the school my son goes to, and the other schools I mentor at.'  So I came in and inquired about it," Thompson said.
Thompson learned that many kids at Houston's Valley Oaks Elementary School were already on a reduced lunch. Many have parents that can't afford daily meals that cost 40 cents. That's when Thompson took $465 of his own money and paid off the lunch accounts for 60 children.
"These are elementary school kids," he said. "They don't need to be worried about finances. They need to be worried about what grade they got in spelling."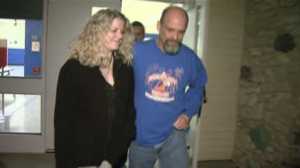 Thompson said many students that have negative balances will skip the lunch line to avoid the embarrassment. He hopes this will give them the confidence they deserve and the nutrition they need.
"When I left the building knowing that they were getting fed, they didn't have that stress.  The best money I ever spent," he said.
Source: KPRC