This is an archived article and the information in the article may be outdated. Please look at the time stamp on the story to see when it was last updated.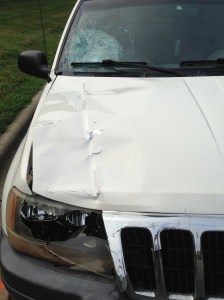 WHITSETT, N.C. — A man on a moped died when he was struck by a vehicle early Friday morning in the Whitsett area.
The accident happened just before 6 a.m. along Rock Creek Dairy Road.
N.C. Highway Patrol troopers say a Jeep Cherokee driven by Jeffrey Morrison, 40,  struck the moped from behind. The driver of the moped, John Cook, 46, of Graham, flew off the bike and hit the windshield of the jeep.
The moped ended up underneath the jeep.
Cook was pronounced dead at the scene.
Troopers say the accident happened at daybreak and Morrison claims he never saw the moped.
Morrison, who was the only one in the Jeep, has been charged with misdemeanor death by motor vehicle. Troopers are still investigating speed and whether or not the moped's lights were on.
It was determined that alcohol was not a factor in the crash.
MORE: Troopers: appears Jeep struck moped from behind just before 6 a.m., not sure why. Investigation underway. pic.twitter.com/TknMW8ARfP

— Michael Spears (@MichaelKIRO7) July 25, 2014