This is an archived article and the information in the article may be outdated. Please look at the time stamp on the story to see when it was last updated.
GREENSBORO, N.C. —  A man was killed in a hit-and-run while he was walking across East Cone Boulevard in Greensboro Sunday night.
Sixty-year-old Billy Joe Pope of Greensboro was walking across the intersection of Cone and Sands Drive when he was hit around 10:30 p.m., according to Greensboro police.
The vehicle failed to stop at the scene and Pope died as a result of his injuries on scene.
On Monday, an investigator went back to the scene searching for surveillance footage from nearby businesses.
A camera captured a van in the area.
Greensboro police want to speak with the driver and possible passengers inside it about what they may have seen. They could be potential witnesses.
Greensboro/Guilford County Crime Stoppers posted an image of the van online.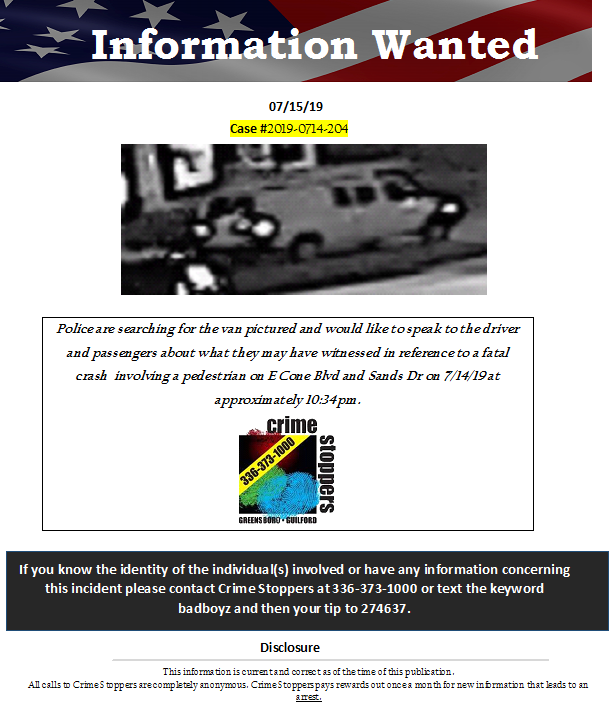 Police are asking the public to call the police department if they have any information on this case.
"I wish they would be adult enough to turn themselves over," said Robert Carico, who lives near the intersection.
Carico says he crosses the intersection of Cone and Sands Drive daily. A FOX8 crew witnessed many people doing the same thing Monday afternoon.
"I'm sorry that the man was hit by the car and died," Carico said. "I'm just thankful to God that it wasn't me."