This is an archived article and the information in the article may be outdated. Please look at the time stamp on the story to see when it was last updated.
[protected-iframe id="d7dddeef646f823b6edd5c449fa55010-28572344-57275829″ info="http://www.kaltura.com/index.php/kwidget/wid/0_4b4z8spv/uiconf_id/12411312″ width="100%" height="345″]
MELBOURNE, Fla. — A man believed to be high on the new synthetic drug called "Flakka" attacked a police officer after claiming he was God and performing a lewd act on a tree, officials said.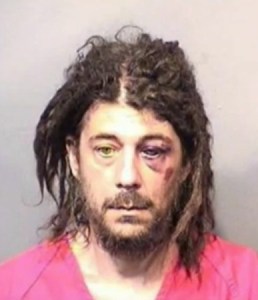 Kenneth Crowder, 41, of Melbourne, Fla., was arrested last Friday and charged with battery on a law enforcement officer, resisting with violence and assault with a deadly weapon on a law enforcement officer.
Crowder was spotted by witnesses running naked through a Melbourne neighborhood, yelling that he was God before committing a sexual act on a tree, according to a police report obtained by WKMG.
When an officer responded to the scene, Crowder walked toward the officer in an aggressive manner and identified himself as "God," police said.
The officer used a Taser on Crowder, but he reportedly pulled the probes out of his body and continued to fight. When the officer again tried to use the Taser, Crowder again reportedly pulled the probes out and charged the officer with clenched fists.
The officer punched Crowder and a scuffle ensued. Police say Crowder claimed he was "Thor" and tried to stab the officer with the officer's badge.
Police say other officers responded and helped subdue Crowder, who was handcuffed and shackled.
Crowder was booked into the Brevard County Jail Complex. He later posted bond and was released.
Flakka is a variation of synthetic substances known as bath salts; it delivers a cheap and powerful high while acting as an amphetamine, officials said.