This is an archived article and the information in the article may be outdated. Please look at the time stamp on the story to see when it was last updated.
DAVIDSON COUNTY, N.C. — The man found dead inside a Davidson County mobile home on Saturday has been identified, according to a press release.
Deputies were called to 260 Twin Lakes Drive north of Thomasville at about 12:30 a.m. where Austin Matulevic was found dead inside.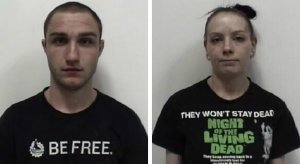 Another man, identified as Michael Luther, was found at another mobile home and is recovering at Wake Forest Baptist Medical Center in serious but stable condition, according to authorities.
The suspect, 22-year-old Jerrod Allen Sechrist, has been jailed with no bond and faces charges of possession with intent to sell marijuana and destruction of evidence, according to the Davidson County Sheriff's Office.
Sechrist's girlfriend, Brooke Ann Kellens, was also arrested and faces charges of destruction of evidence and possession with intent to sell marijuana. She was jailed under a $5,000 bond.
The circumstances surrounding the crime has not been released.