This is an archived article and the information in the article may be outdated. Please look at the time stamp on the story to see when it was last updated.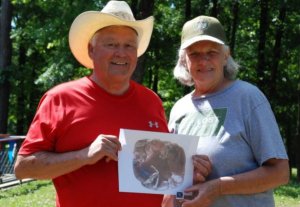 MURFREESBORO, Ark. — A Montana man was stunned recently to find a peanut-sized diamond at an Arkansas State Park.
Wendell Fox found the 2.78-carat gem at Crater of Diamonds State Park in Murfreesboro, Arkansas, on May 13, ABC News reported.
Fox, 70, and his wife Jennifer, 68, live in Joliet, Montana, most of the year, but the Arkansas natives knew that a diamond mine is part of the park's history.
Fox said he and his wife were walking around for about an hour and a half "looking for a glimmer" when he noticed the gem.
"I was surface looking, walking very slowly and looking very slowly and I saw it," Fox told ABC News. "I got down for a closer inspection because I wasn't quite sure what to look for, but as soon as I saw it I thought, 'that's probably a diamond.'"