This is an archived article and the information in the article may be outdated. Please look at the time stamp on the story to see when it was last updated.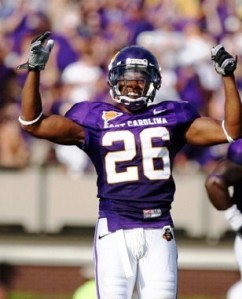 GREENSBORO, N.C. — Former ECU football player Derek Blacknall has died following a dispute at his Greensboro home on Monday and his brother has been charged with murder, according to police.
Police say Blacknall, 24, and his brother, Darren Broderick Blacknall, 30, both of 1201 Willard St., Greensboro, got into a fight shortly before 10 p.m. Monday.
When officers arrived, they found Derek Blacknall suffering from apparent stab wounds. He was transported to a local medical facility where he was later pronounced dead.
Derek played football for the ECU Pirates between 2008 and 2011, according to The Associated Press.
Lt. T.J. Biffle says Darren Broderick Blacknall has been charged with first degree murder.
No other details were immediately available.