This is an archived article and the information in the article may be outdated. Please look at the time stamp on the story to see when it was last updated.
ONSLOW COUNTY, N.C. — The man charged in concealing the death of 3-year-old Mariah Woods was in court for the first time Monday morning.
Mariah's mother's boyfriend, Earl Kimrey, 32, was taken into custody Friday in connection with the girl's disappearance and death.
At his first court appearance, the judge ordered bond to remain at $1.1 million.
Attorney Walter Paramore of Jacksonville is representing Kimrey.
Kimrey's next court date is scheduled for Dec. 18.
The Fayetteville police dive team recovered the remains of Mariah around 5:30 p.m. Saturday in Shelter Creek along Shaw Highway in Pender County. Positive confirmation of the identity of the remains will be made by the Medical Examiner's Office.
"Very saddened to report to you that we have recovered what we believe are the remains of little Mariah Woods," Onslow County Sheriff Hans Miller said. "We were all hoping for a better outcome. We have made appropriate notifications to the family."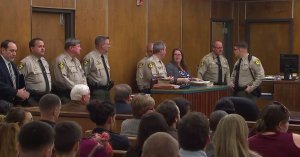 Kimrey's mother and stepfather live in Mebane. FOX8 reporter Michael Polarchy attempted to speak with them but they refused to say anything about the case.
Kimrey is being charged with concealing of death, obstruction of justice, second-degree burglary, felony larceny, and possession of stolen property.
District Attorney Ernie Lee has been consulted on the current charges and additional charges could be pending as the investigation continues.