This is an archived article and the information in the article may be outdated. Please look at the time stamp on the story to see when it was last updated.
DAVIDSON COUNTY, N.C. — Two men are recovering from serious injuries and one is facing several charges after a high-speed chase ended in a head-on collision.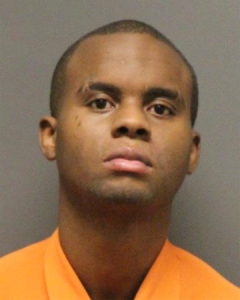 Antoine Mickle, 27, reached speeds up to 120 mph going the wrong way on U.S. 52 in Davidson County Monday night, according to the Davidson County Sheriff's Office.
"We are really lucky that we're not investigating a death from last night," said Maj. Robert Miller, of the sheriff's office.
The chase lasted about one or two minutes before Mickle's 2015 Malibu hit a car driven by Mathew Blyden near mile marker 95.
Both Mickle and Blyden were taken to Wake Forsest Baptist Medical Center with serious but non-life-threatening injuries.
Deputies found that Mickle had eight outstanding warrants and $2,000 worth of stolen goods in his car.
Mickle is now facing a number of charges including felony speeding to evade arrest, assault with a deadly weapon inflicting serious injury and possession of heroin drug paraphernalia.
More charges are pending and investigators are working to find out where the stolen items are from.