This is an archived article and the information in the article may be outdated. Please look at the time stamp on the story to see when it was last updated.
FORSYTH COUNTY, N.C. -- Deputies say a man wanted for incidents in Davidson and Guilford counties fired shots at people trying to stop him from driving recklessly before crashing head-on into a Forsyth County deputy.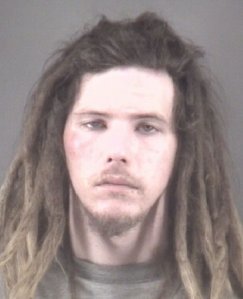 The Forsyth County Sheriffs Office says 24-year-old Alexander Jared Franklin, of Kernersville, was involved in altercations in both Davidson and Guilford counties on Tuesday. Investigators say Franklin was driving recklessly in Davidson County, and when people tried to stop him, he fired shots at them.
The Davidson County Sheriffs Office says they are investigating the incident as "possible road rage."
At 10:18 a.m., deputies in Forsyth County received a report from a road construction crew at the intersection of Vance Road and Cedar Creek Drive, saying that Franklin had displayed a handgun and threatened them.
"It happened so quickly," said James McMillan, a member of that work crew.
The Forsyth County Sheriff's Office says, as deputies approached the 8000 block of Vance Road, Franklin tried passing a dump truck in his red Honda Civic. They say Franklin hit their lead deputy head-on, before being arrested.
"It was kind of shocking," McMillan said. "To see the police in action, literally pulling their guns on a suspect."
As a result of the incident in Forsyth County, Franklin is being charged with assault on a government employee, assault with a deadly weapon, possession of a firearm by a felon, possession of methamphetamine, going armed to the terror of the public and two counts of resist, obstruct, and delay an officer.
"Beware of whoever's going to be in the road rage," McMillan said. "You never know what they have in their car."
Franklin is currently being held at the Forsyth County Detention Center under a $40,000 secured bond and has a pending court date of June 28, 2018.
Criminal charges against Franklin are forthcoming from authorities in Davidson and Guilford counties.
The North Carolina State Highway Patrol is investigating the crash.
No injuries were reported in any of the incidents. ​