This is an archived article and the information in the article may be outdated. Please look at the time stamp on the story to see when it was last updated.
FORSYTH COUNTY, N.C. – A suspect was arrested after a break-in and fleeing police in a vehicle pursuit that ended with a crash, according to a news release.
On Thursday morning, the Forsyth County Sheriff's Office received a report of a break-in at a home in Stokes County where the intruder left the scene in a vehicle.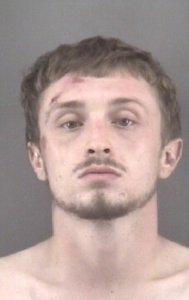 A deputy located the suspect vehicle and tried to stop the vehicle. The driver, Tyler Davis White, 24, of Winston-Salem, allegedly refused to stop, and a pursuit ensued.
The suspect vehicle crashed at the intersection of Shattalon Drive and Murray Road in Winston-Salem. White then reportedly ran from the scene.
No one was injured in the crash. It was determined the suspect vehicle was stolen from Forsyth County.
Deputies and Winston-Salem Police tried to locate the suspect with the help of a K-9.
Deputies were able to track the suspect to an address on Morningside Drive where he and Dushawn Lamont Alexander, who had outstanding drug-related warrants from Guilford County, were taken into custody without incident.
White is charged with two counts of possession of firearm by felon, possession of heroin, possession of marijuana up to half ounce, possession of burglary tools, larceny of motor vehicle, possession of stolen goods, hit and run-fail to stop, felony flee to elude, two counts of injury to personal property and two counts of resist, delay, obstruct.
White is also reportedly a fugitive from Texas.
He was given a $50,000 bond on those charges but is being held with no bond allowed because police say he is a fugitive from Texas. Extradition is pending.
Alexander was charged with possession of firearm by felon, possession of stolen firearm, possession of heroin, possession of marijuana up to half an ounce and resist, delay, obstruct.
He is being hed with no bond allowed.
White and Alexander are both scheduled to appear in court Sept. 27.
A neighbor described the scene on Morningside Drive.
"I went out there by the kitchen and we just see the cops running in there with the dogs trying to look if they were there. At first, they didn't find them so they came out and went back in the backyard trying to find them," Brisa Reyes said. "I was just wondering what happened, what could they have done because it was a lot of cops."
Here on Morningside Dr where officers arrested two men following a pursuit and home invasion out of Stokes County @myfox8 pic.twitter.com/ip7jQiqtW9

— Hayley Fixler (@HayleyFixlerTV) September 5, 2019