This is an archived article and the information in the article may be outdated. Please look at the time stamp on the story to see when it was last updated.
OHIO -- Two sisters who'd never met were brought together through a viral Facebook post last weekend.
Nicholle Oliver, who was adopted shortly after her birth, always wondered about her birth family.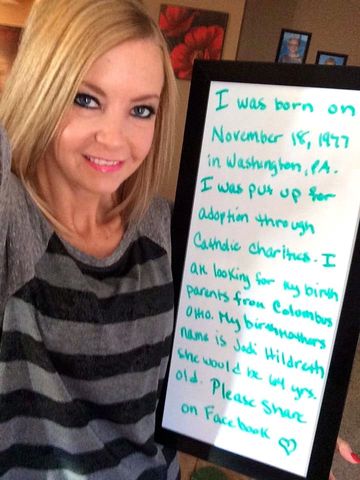 So, she posted a picture to Facebook on March 7 to see if she could find out more information about her birth family.
It worked.
She found her sisters, Rosie Briggs Franklin and Dollie Conant.
In the picture posted online, she penned a note on a dry erase board:
"I was born on November 18, 1977 in Washington, Penn. I was put up for adoption through catholic charities. I am looking for my birth parents from Columbus, Ohio. My birth mother's name is Jodi Hildreth. She would be 64 years old. Please share on Facebook."
The 36-year-old's cries for help were answered almost immediately thanks to the overwhelming response from the social media world.
Oliver also reinforced her search efforts through Search Squad, a social media group dedicated to helping people find their lost relatives and friends.
Within hours, she discovered information about her two sisters and her new found Irish ancestry.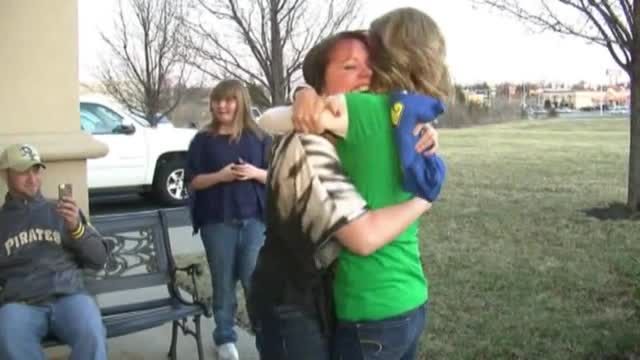 According to WCPO, Franklin and Conant, who grew up together, knew their mother had given birth to another girl, but they knew her as "Jenni."
They thought "Jenni" was dead because their mother was "an addict" and told them that their baby sister was "born with problems," Franklin said.
Although Oliver was given the name "Jenni," it was changed to "Nicholle" when she was adopted.
After many messages over Facebook, Oliver and Franklin decided to meet.
But Franklin had arrived early in order to set up a surprise greeting from behind.
Out of no where, as Oliver stood in front of the hotel, her sister grabbed her from behind.
"Happy St. Patrick's Day," Franklin laughed as she sneakily embraced her little sister.
While there are some obvious physical differences, it's clear the two women are sisters.
"It's unbelievable," Oliver said of the opportunity to meet her relatives. "I have this huge hole filled that I never thought would be filled. It's crazy."
But the experience wasn't over.
On Sunday, both Oliver and Franklin made the trek to meet with their big sis, Conant.
Read more: WCPO