This is an archived article and the information in the article may be outdated. Please look at the time stamp on the story to see when it was last updated.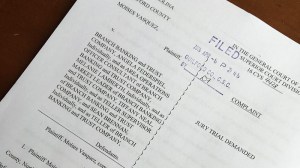 GREENSBORO, N.C. — A lawsuit was filed today by A.G. Linett & Associates alleging a "mock armed robbery" happened at a Greensboro BB&T in January and supervisors knew about it but other employees were not informed.
The lawsuit claims that the mock armed robbery happened at the BB&T Four Seasons Branch, located at 2274 Vanstory St., on Jan. 13, 2016. It was filed on Wednesday in Guilford County Superior Court against BB&T and a number of its employees and supervisors.
According to A.G. Linett & Associates, the complaint states that a BB&T teller from a neighboring branch dressed up in a ski mask, brandished a fake gun, assaulted several employees and held them against their will as the branch was being opened.
"The branch manager and other supervisors knew about the mock armed robbery in advance, but did not inform their fellow employees," the lawsuit claims, according to A.G. Linett & Associates.
The plaintiff is asserting claims for assault, battery, false imprisonment, intentional infliction of emotional distress and a number of other claims that resulted in severe emotional distress.
FOX8 has reached out to BB&T for comment and our calls have not been returned as of 6 p.m. Wednesday.
A.G. Linett & Associates sent the full 44-page complaint to FOX8. You can view it below in the gallery or download it in PDF form by clicking here.
This slideshow requires JavaScript.